Conveyor Belt systems are essential for handling commercial and industrial activities. They are used in manufacturing, automotive, pharmaceutical, agriculture, and many other industries. However, like any other system with moving parts, conveyor belts can be hazardous, mainly if improperly operated or installed. Here are some health and safety precautions to keep you and your colleagues safe.
1. Don't Stand, Walk, or Sit on the Conveyor Belts
While riding, standing, or sitting on a conveyor may seem fun, it can be perilous. A conveyor has a lot of pinch points that can catch and tear off your limb or other parts of the body. This may happen even on conveyors with pinch point guards. Besides, riding on a conveyor can un-track the belts, thus damaging the entire system.
2. Perform Maintenance Inspections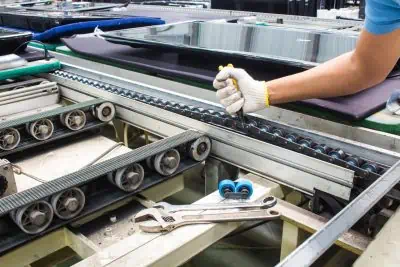 Conveyor operators should check and adjust the chain and belt tension to prevent improper adjustment or twisting. It is advisable to regularly inspect parts like drive chain take-up since they tend to lengthen as the system wears. Lubrication of the chains and bearings may also help reduce friction.
It is also important to consider cleaning the system to prevent excessive dirt, paint, and grease buildup. The contaminants may lead to the premature failure of belts, bearings, and chains, and they may also ruin the products on the conveyor.
3. Don't Overlook Warning Signs
Conveyor operators or employees working around the conveyors should inform their supervisors if there are issues with the system. No matter how minor the case seems, it is advisable to make the necessary repairs before it worsens.
4. Keep Hair, Clothing, and Jewellery Away
Loose clothing, long hair, body parts, and jewellery can easily get caught on the conveyor belts, causing severe injuries. Therefore, it is essential to ensure that operators and people walking around the conveyor belts have their hair tied back. It is also advisable to avoid wearing loose clothing and remove bracelets, watches, and other jewellery before going near the conveyor.
5. Avoid Taking off or Moving Conveyors Guards or Safety Divides
All pinch point guards or safety divides should be installed before the operation begins. Besides, the automated conveyor systems should stay locked. However, these parts can be removed when contractors or operators want to perform maintenance by exposing moving parts, gears, and chains. Conveyor operators should never operate the system with a missing or an open chain or belt guard.
6. Embark on Conveyor Belt Safety Training
It is essential to attend a safety training class specific to conveyor belts. The program should highlight the risks of working around conveyors and the safety procedures for operating them. The training should not only involve new employees. Existing workers should also get refresher training revolving around conveyor safety rules.
7. Don't Allow Unauthorised Personnel to Maintain or Operate Conveyors
Like other material handling equipment, conveyors can be unsafe for individuals without the requisite conveyor safety training. Contact a trained conveyor maintenance contractor if you want a part or parts of the conveyor system fixed. Allow only trained and competent employees to perform maintenance or operate the conveyor.
Contact Conveying & Hoisting Solutions for Help
Whether you are handling a simple or complex project, at Conveying & Hosting Solutions, we will provide you with the quality conveyors or hoists you need for your projects. Contact us today to learn more about how we can help make your industrial operations more efficient through our conveyor belt hire services.
NEED QUALITY EQUIPMENT DELIVERED DIRECTLY TO WHERE IT'S NEEDED? CONTACT US TODAY!