Conveying & Hoisting Solutions™ has an extensive range of materials handling equipment available for hire including Geda 300kg Single Barrow Material Hoist.
Efficiently move material up and down on site with our small to large rack and pinion materials hoists, builder's hoists, brickies hoists and barrow hoists. Our units use the latest rack and pinion drive technology and meet all the required safety standards.
Our Geda 300kg Single Barrow Material Hoist is a high quality German product with larger platform sizes and a fast set up time.
If you are looking to hire or rent the 300kg Single Barrow Material Hoist, please contact us today.
Call us today! (02) 9707 2797
Geda 300kg Single Barrow Material Hoist Features
Larger platform sizes than any other unit on the market
Suit Australian wheelbarrows
Safety circuit to protect overloading on 240V units
Fastest set up time on the market, captive mast bolts & mast pivot cams make putting mast on a breeze
Lightweight units to enable the unit to be lifted further with HIAB cranes on tight or congested work sites
Simple electronics ensure reliability with a red and green light system to alert to problems such as a ramp not closed or a landing gate left open
240V outlets in the platform allow riggers to install mast braces easily and straight from the platform
Riggers can safely access the building via the riggers deck supplied as standard
Can be attached to scaffolding (conditions apply)
Optional Extras
Full height ramps are available in lieu of half ramps as standard.
A third ramp can be fitted so that loading can be done on all sides of the hoist excluding the mast side.
Electrically interlocked landing gates are available for complete site safety.
Landing Gates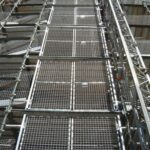 Specifications