Construction rubbish chutes are used to dispose of construction waste materials, especially during the construction or demolition phase. Construction rubbish chutes are a vital part of any building project and should be installed in a safe, accessible location so they can be easily accessed by workers on-site.
Construction rubbish chutes can manage all types of wastes: wood, metal, plastic and other materials. They can help increase safety by taking away any risk of injury from manual handling carrying of waste downstairs or ladders.
In addition to providing a safe way to dispose of debris from the site, these chutes also help keep building sites clean and tidy, creating a safe workplace.
Our main customers are
Demolition contractors
Roofing companies
Renovation companies
Waterproofing companies
General construction
Fit-out and refurbishment companies
Further information on rubbish chutes can be found at GEDA.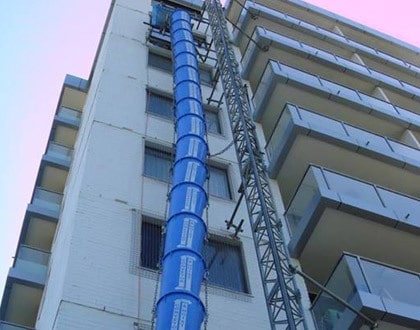 NEED A RUBBISH CHUTE RENTAL FOR YOUR CONSTRUCTION SITE? CONTACT US TODAY!