In the demanding world of construction and demolition, waste management is a critical task. Construction rubbish chutes have emerged as a vital tool, ensuring efficient disposal of various waste materials such as wood, metal, and plastic. Installed in a safe, accessible location on building sites, these chutes provide an easy solution for workers to manage site debris.
Rubbish chutes in construction offer numerous benefits. They increase safety by mitigating the risk of injuries associated with manual waste handling, such as carrying debris down ladders or stairs. Additionally, these chutes keep building sites clean and tidy, promoting a safer and more productive work environment.
We are proud to serve a diverse clientele including:
Demolition Contractors: Our robust rubbish chutes stand up to the heavy-duty waste generated during demolition work.
Roofing Companies: Safely dispose of old shingles, nails, and other roofing waste with our reliable chutes.
Renovation Companies: Keep your renovation site clean and organized with our easy-to-use rubbish chutes.
Waterproofing Companies: Manage waste from waterproofing projects efficiently with our durable chutes.
General Construction: From small-scale renovations to large construction projects, our chutes are an essential tool.
Fit-out and Refurbishment Companies: Our rubbish chutes help keep your site clean during fit-out and refurbishment projects.
Further information on rubbish chutes can be found at here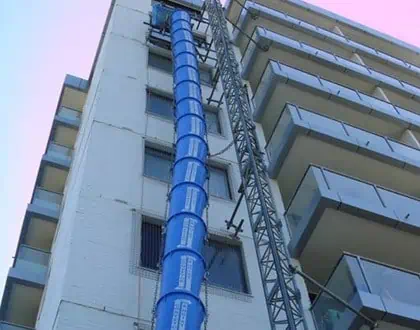 NEED A RUBBISH CHUTE RENTAL FOR YOUR CONSTRUCTION SITE? CONTACT US TODAY!