Conveyor systems are mechanical handling devices that move materials and loads within an area. Not only is it quick, but it's also convenient and highly efficient. Carrying bulky items in warehouses and factories takes time and effort. However, using a portable conveyor system ensures that your items get delivered without errors within the shortest possible time.
Portable conveyors are an essential requirement in many industries and workplaces because it helps minimize human error, reduce risks in the workplace and reduce labor costs. Let's look at how a conveyor system can streamline your business in no time.
What can portable conveyor belt systems get used for?
The most common option for using conveyor systems is to transport heavy or bulky items in industrial environments. It applies to workplaces such as junk yards where large items must get moved from one point to another. When faced with a job that requires a lot of labor or workforce, the conveyor belt can do both with minimal physical effort. You can also use it to automate various processes in various industries.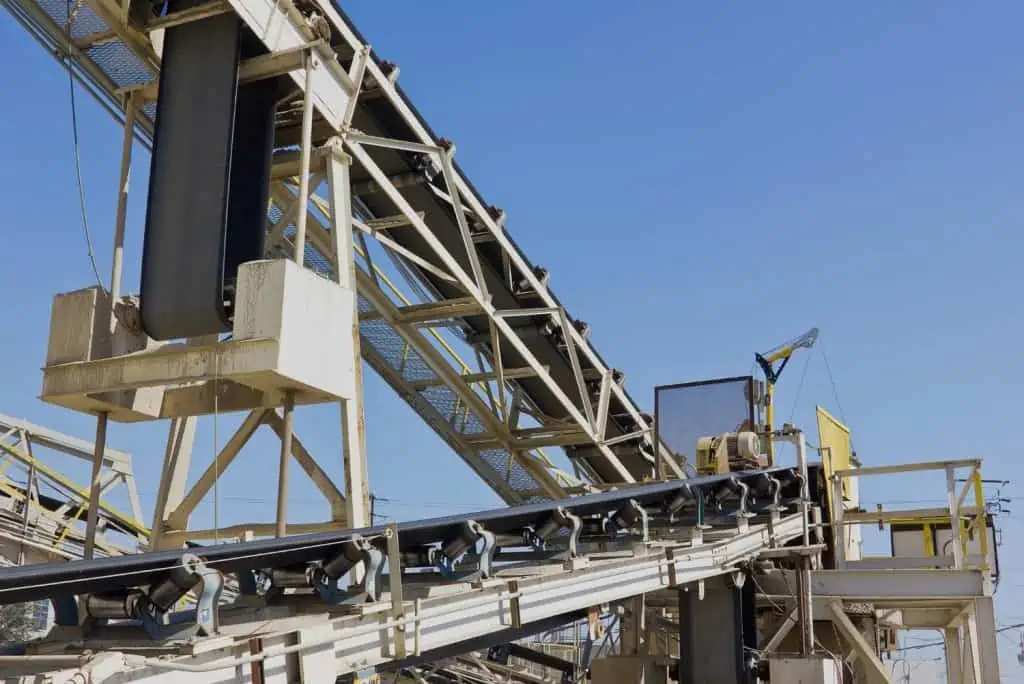 Conveyor belt systems significantly benefit many businesses, especially those with bulky or potentially dangerous goods. They get widely used for transporting goods in farms, food manufacturing plants, car assembly plants, and power plants. Conveyor systems are versatile machines and can help your business in many ways. Conveyor systems help sort parts, handle heavy materials, keep warehouses organized, and make warehouse personnel more convenient. It's one of the easiest ways to keep the essential parts of your warehouse running at peak efficiency.
How Does a Portable Conveyor System Help Your Business 
● Minimizing Manual Labor
Before the invention of the conveyor system, businesses used human power to transport materials from one region to another. It was exhausting and slow, forcing businesses to spend heavily on labor costs. But now, with a portable conveyor system, businesses can reduce labor costs such as hiring, wages, training, benefits, and retention rates.
Portable conveyor systems allow the automatic transport of materials over long distances of varying heights. Conveyors can move raw materials from warehouses to production lines, move products to other storage equipment, move finished products to packaging lines, and carry packaged products to shipments.
● Greater Optimization of Space
In a warehouse, floor space is a valuable commodity. To maximize efficiency, you should plan the facility layout. It cannot be accessible with permanent fixtures like traditional conveyor belts, as the installation must get bypassed. The more of these portable conveyor devices you have, the less space you will need for work.
Portable Conveyor Belts allow you to put your conveyor belt where and when needed. It is an invaluable advantage for warehouses that need to coordinate operations on the fly. It gives you more flexibility when optimizing your storage space. Finally, this solution is lightweight and can be stored away in a bit of place for later use.
● Worker Safety Guaranteed
Using a high-quality conveyor system improves overall occupational safety. Instead of having employees manually manipulate large quantities of products on the production line, you can benefit from an automated conveyor system that works much more efficiently. It allows workers to take responsibility for quality control throughout production without risking injury or accidents. Conveyor systems have proven to help eliminate one of the leading causes of worker injury.
● Automate Operations and Reduction of Human Errors
Portable conveyors get installed to automate the movement of products and goods in the workplace. In this way, you reduce the duration and complexity of employee task completion. At the same time, time savings increase productivity.
Installing a conveyor belt in your workshop gives you greater control. By reducing the chances of human error, new installations provide greater control. A higher level of control allows you to focus on improving efficiency without worrying too much about safety or human error.
● Enhancing Productivity and Efficiency
Conveyors save time by allowing materials to move quickly between multiple levels. Materials can move in different directions. It is useful when moving between ends of a processing facility. Modern conveyor systems eliminate the need to unload materials manually, so you don't have to waste time monitoring unloading operations and workers.
Henry Ford is well known as one of the first entrepreneurs to set up a moving assembly line for mass automobile production in 1913. With this innovation, he reduced the time to create a car from more than 12 hours to just one and a half hours. Imagine the productivity you can achieve with a modern conveyor system.
A portable conveyor is equipped with speed control to move material at optimum speed, reducing waste and material loss.
● Ceaseless Loading and Unloading
Depending on your warehouse, you may spend an entire day loading and unloading consumables. If so, you need a solution that works for hours. Portable conveyor systems can load and unload items continuously for long periods. You can also move it to where you need it most.
● Improved Versatility
While choosing a conveyor system, you also select more versatility. You can control the speed and direction of your conveyor system to meet your specific production needs constantly. A conveyor system can also get reconfigured to meet ever-changing production needs. Some of the most requested conveyor systems from Diamond Phoenix Automation are belt conveyors, modular conveyors, gravity roller conveyors, and vertical conveyors.
● Finest Adaptability
One of the notable benefits of portable conveyor systems is their adaptability. Equipment of this type can get expanded or contracted as needed. They can also come in various shapes to suit your unique process and productivity goals.
● Enhance Profits
A professionally installed conveyor system is a foolproof way to improve your company's overall bottom line. As your business grows, so does the demand for your products. Conveyor systems are a long-term, cost-effective option that can help meet demand and extend profits to levels that would otherwise be difficult to meet.
Conclusion
To conclude, a portable conveyor system is everything that you need to streamline your business in less time. It is the finest machinery that provides innumerable advantages for your one-time investment. Additionally, portable conveyors are simple to install and require lesser maintenance too. Check out the finest and most affordable Conveying and Hoisting Solutions collection if you want portable conveyor systems.