Most conveyor belts are built to last for several years, efficiently ferrying materials and goods across your facility. If your conveyor system needs replacement or repair more frequently, that could indicate a severe problem with the system, it was designed inappropriately, or it is wrong for the application.
Furthermore, conveyor system applications differ significantly because belt life can range from as short as weeks to as long as 10+ years, meaning longer life is possible. Fortunately, there are ways to maximise your conveyor belt lifespan and energy savings while minimising operating costs. Below, Conveying & Hoisting Solutions experts share valuable tips you can use to keep your equipment running efficiently for years. Follow through!
1. Choose the Right Belt Size for Your Specific Application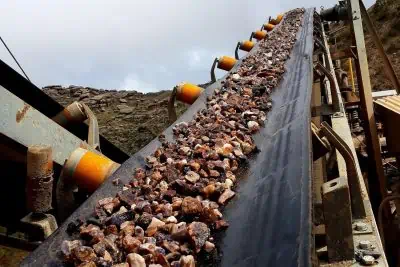 Conveyor belts come in different profiles and sizes. Choose a belt size that meets your material handling needs. Crucial factors to consider when selecting a conveyor belt include the speed, weight of your material, and the direction you intend to move the materials. Whether you need metal or another material sorting, detection, or weighting, these factors are essential when investing in a conveyor belt.
At Conveying & Hoisting Solutions, we can help you find what you need for your industrial operations. However, we recommend getting a belt that can manage more than you require to increase production without weighing down the conveyor.
2. Perform Regular Inspection
Damaged or worn-out parts can cause frequent breakdowns, resulting in extended downtime when repairing or waiting for replacement components to arrive. Conducting routine inspections can help detect even minor issues and fix them quickly to reduce possible conveyor breakdowns.
At Conveying & Hoisting Solutions, we strive to provide quality equipment to make your factory work easier. All our conveyor belts are serviced to Australian standards and meet all workplace safety, health, and environmental standards and regulations.
3. Keep Your Conveyor Belt Clean
A dirty or poorly maintained belt can encourage build-up and make the underside slippery, cutting the belt's weight carrying capacity. Dirt can also affect the performance of significant conveyor components like belt rollers, reducing the conveyor belt life. That's why it is essential to keep your conveyor system clean always. Also, get a conveyor designed with easy-to-clean parts like belt systems and belt scrapers designed to sustain regular cleaning without having to dismantle your belt.
4. Check the Pulley Alignment
The primary role of a pulley alignment is to secure your conveyor belt and ensure it's running at optimal efficiency. An appropriately aligned drive pulley encourages equal belt tension on both sides of the equipment's cross-section and can help extend the belt's lifespan. On the other hand, a poorly aligned pulley can affect the quality of belt runs, which can cause premature stretching on either side of the conveyor, making your belt wear out quickly.
5. Consider Preventative Maintenance
Implementing proper preventative maintenance will help keep your conveyor system running correctly. Be sure to follow the manufacturer's directions for planning preventative maintenance, inspecting, repairing, and replacing worn-out parts to optimise performance and extend the life of your belt.
Contact Conveying & Hoisting Solutions for Further Information
These five tips can help enhance your belt alignment, maximise performance, and keep it running correctly for many years. Contact us today to learn more about our conveyor belt hire services and other conveyor-related maintenance services.
NEED QUALITY EQUIPMENT DELIVERED DIRECTLY TO WHERE IT'S NEEDED? CONTACT US TODAY!