The main purpose of a harness is to keep you safe while working in a dangerous environment prone to fall-related injuries. The market for a safety harness is a highly complicated one. The first variety is composed mostly of body belts. Their main function is to arrest falls completely within 3 feet by restraining a person or preventing falls altogether. The second variety is a chest-mounted harness used in scenarios with limited fall hazards. A full-body harness can save you from severe free falls. Finally, comes the suspension belts that support a suspended person without blocking their blood circulation. The suspension belts are generally used for working in an elevated position over prolonged periods.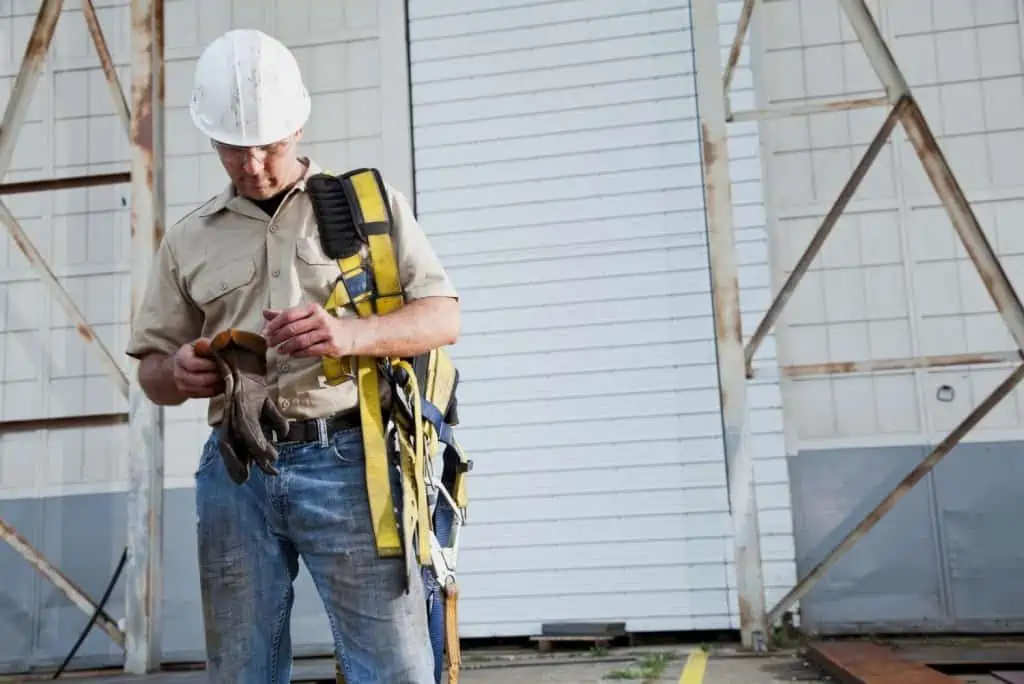 What to consider while buying a Safety Harness?
It is advisable to seek expert help as they will guide you with the right fit according to your work environment. But if you have to decide by yourself, then you need to consider the following:
Fit & Padding
Harnesses and comfort have always been two distant concepts. But modern manufacturers are trying to relieve the discomfort with padded harnesses. Your harness should fit you like a glove. Since all of our bodies are different, manufacturers want to accommodate our varying proportions with removable padding and adjustable straps. The harness you select should render a comfortable fit and be of the perfect size so that you can work safely.
Choosing an ill-fitting harness can be very dangerous. It isn't uncommon to struggle to find the right fitting harness as you juggle through manufacturer jargon. As a rule of thumb, the harness should fit snugly rather than constricting. A harness can be considered snug fitting if you can slip your fingers between your body and the harness. On being correctly worn, the D-ring will be positioned between your shoulder blades at the center of your back. This will keep you safe in an upright position so that your fall protection equipment can function properly.
Webbing
The main purpose of webbings is to withstand the pressure levied on them. Modern-day manufacturers offer different options like heat-resistant, liquid-repellent, and elastic webbing. These state-of-art options can improve the wearer's comfort and ergonomics. Though your requirements will determine your choice of webbing, a premium grade one can relieve you from future headaches. Excess webbing hanging down can cause accidents by getting caught in the machinery.
Comfort
There is no point in wearing safety equipment if they cause discomfort. The fall protection harness should ideally be worn at all times. Getting a lightweight harness can help reduce the total load that is infamous for elevating back pain.
Specialized features
Examples of some integrated harness features are an added life vest or hi-viz jacket. Though these features might not offer much value addition to everybody, the specialized accessories can be a lifesaver if your field of work requires it. Some examples of such features have been mentioned below:
The D-rings are the main points of attachment for vertical lifelines, lanyards, and retractable. When a fall occurs, they can safeguard the wearers. Every harness is equipped with a dorsal ring but you can include other D-rings and attachment points on your harness. If you have to work hands-free like in rebar construction or tower work, then get a harness including side or hip D-rings. These allow hands-free positioning of devices like rebar chains or belly chain assembly. A front (sternal) D-ring can come to your rescue while climbing a fixed ladder.
The impact indicators on dorsal D-rings can send a warning signal whenever the harness gets exposed to a bigger fall. These indicators can never be a replacement for normally scheduled inspections but they deliver valuable insight into whether the D-rings require replacement.
Test for Safety Standards
The law is laid out when it comes to the requirements for a fall protection harness. Your safety harness should be able to safeguard workers during times of crisis. The Occupational Safety and Health Administration (OSHA) has levied stringent standards to ensure all the safety gears conform to rigorous quality checks. The regulations set a high bar to ensure worker safety by prescribing maximum weight loads and arresting forces to run tests against. Your chosen harness needs to be rated for appropriate OSHA standards. You can find these details either labeled on the product itself, specified on the product manual, or on the company website.
Area of application
The type of work you will be doing is a prime factor to consider before getting a harness. If you plan on working at an elevated position for extended periods, a sit harness can be your best fit. Alternatively, if you are confined to smaller spaces, then you need to get a confined space harness. There is also a multi-purpose harness for being used in different applications.
Visibility Concerns
Visibility might be a point of concern if you are planning on working at night or in adverse weather conditions. A harness is worn atop all your clothing and needs to reflect light. You should get a harness made from brightly colored material. Some even include reflective stitching or reflective materials which guarantee visibility even in poor or low-light conditions.

Conclusion
If you want to stay safe and keep your employees safe on the job, then proper inspection and maintenance need to be carried out. Keep your eyes open for signs of damage before using your safety harness. You can check the stitching, webbing, and hardware to ensure they are free from burns, cuts, wear and tear. Proper maintenance can increase the longevity of a premium-quality harness. But once it starts showing signs of damage, replacement is the easiest way out. It is also advisable to immediately replace a harness that has been involved in a fall accident. Though the fall protection harnesses are properly checked to arrest falls at work, the associated force might induce a staggering impact. Often the stress inflicted on the harness's hardware and webbing goes unseen. This is why it's best to replace the harness which was worn during a fall.