We absolutely love our outdoor spaces here in Australia; I mean, who wouldn't? There's perfect weather down here for outdoor entertaining. Whether it's alfresco dining, backyard sports, or anything in-between, your options are pretty much endless.
To no surprise, about 25% of Aussies spend at least 7 hours a week in their backyard. That's great and all, but the size of the average block is also shrinking. And that means we now have less space for traditional landscaping.
Let's have a look at 10 Inspiring Examples of Outdoor Living Spaces
The solution? Creating innovative outdoor living areas from the available and usable space. On this page, you'll find 10 examples of such creative living spaces that you can affordably create in your Australian home. We've covered all bases, including indoor-outdoor living areas (loggia) and stunning decking by the pool.
1. Completely Overgrown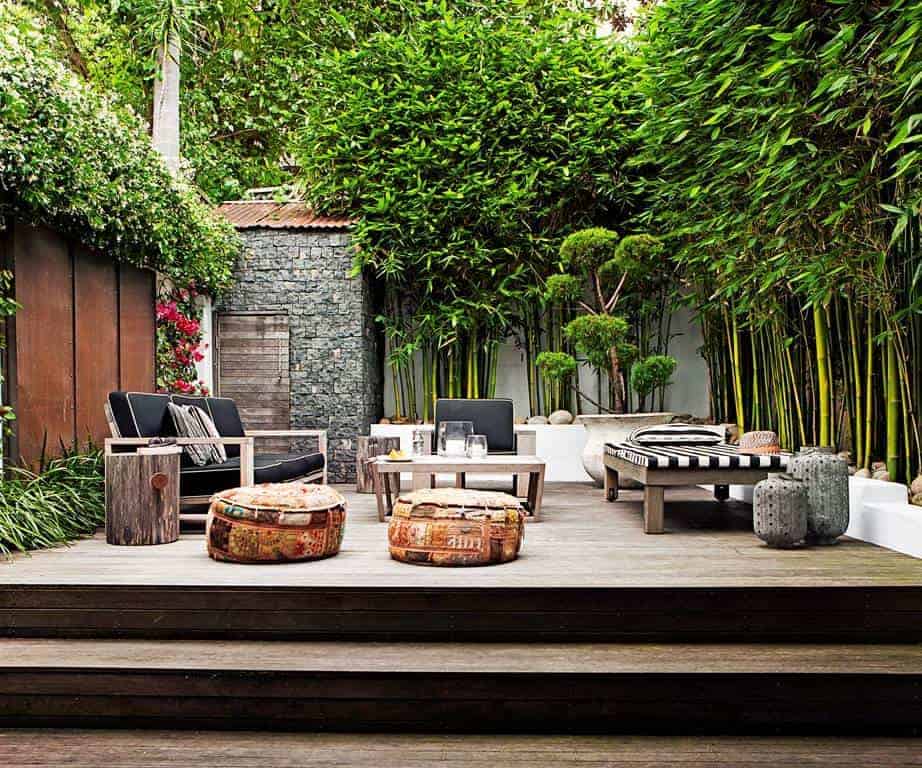 Image source: Homes to Love
According to a Houzz survey, 86% of homeowners in Australia update structural elements during an outdoor renovation. Such elements include terraces, verandas, decks, pergolas etc. The primary motive for these upgrades is to extend living spaces and create a spot for entertaining and relaxation.
2. Spruced-up courtyard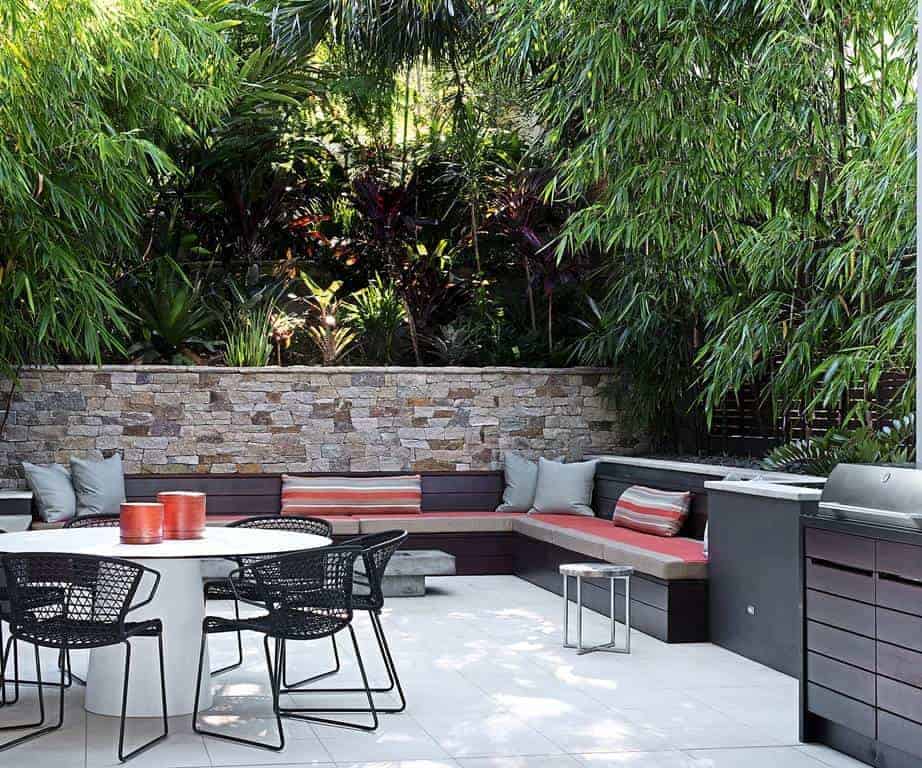 Image source: Homes to Love
While a majority of Australian homeowners upgrade structural elements to extend living spaces, others do so to improve privacy and correct under usage of existing outdoor spaces.
One way of achieving that is by creating a discreet seating area – like the one above – in your courtyard. Notice how it perfectly blends with nature? That's where professional landscaping comes into play.
Despite the generous seating space, this inviting chill spot remains covered in greenery. The small hill in the background keeps away any eavesdroppers.
3. Indoor-outdoor connection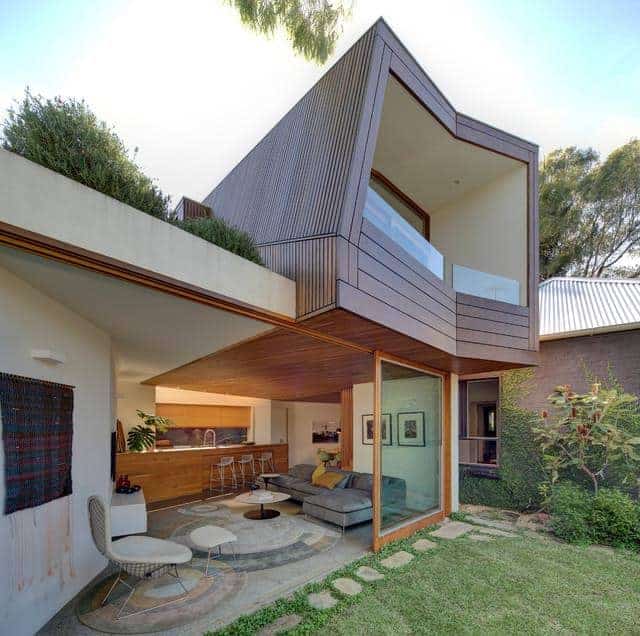 Image source: Houzz
A good portion of Australia enjoys tropical and/or Mediterranean climates, which are perfect for outdoor living. Unsurprisingly, one in two Aussie homeowners use their outdoor space for entertaining. But you don't have to use the entire backyard.
Instead, you can go with a small footprint that features a charming indoor-outdoor connection. It's perfect if you don't want to feel entirely disconnected from the main house. Peep the stunning paver pattern and beautiful little touches like the matching wood on kitchen cabinets and door frames.
4. Lose the lawn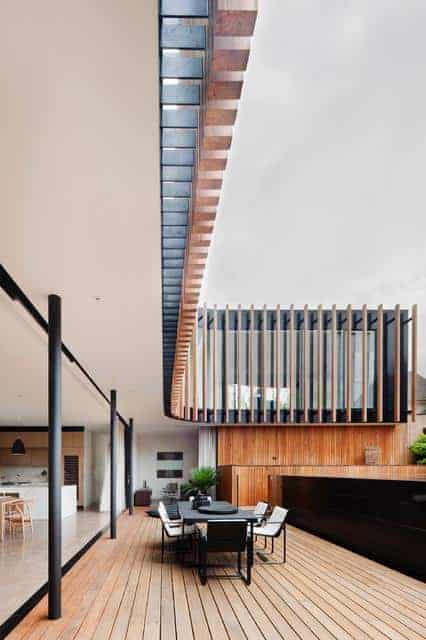 Image source: Houzz
This example is ideal for you if you're not interested in keeping the lawn. FYI, you wouldn't be the only one. Although over two-thirds of Australian homeowners have a lawn, about 50% of them alter it in one way or another during an outdoor project. 22% reduce the size of their lawn while 10% get rid of it altogether.
Do you want to join the 10%? How about using some stylish furniture and sophisticated wood to blur the lines between your outdoors and indoors like in the image above? It's basically an expansive deck, but with astonishing sculptural curves. You'll love it if you want a spot where you can while away a lazy afternoon.
5. Upgraded veranda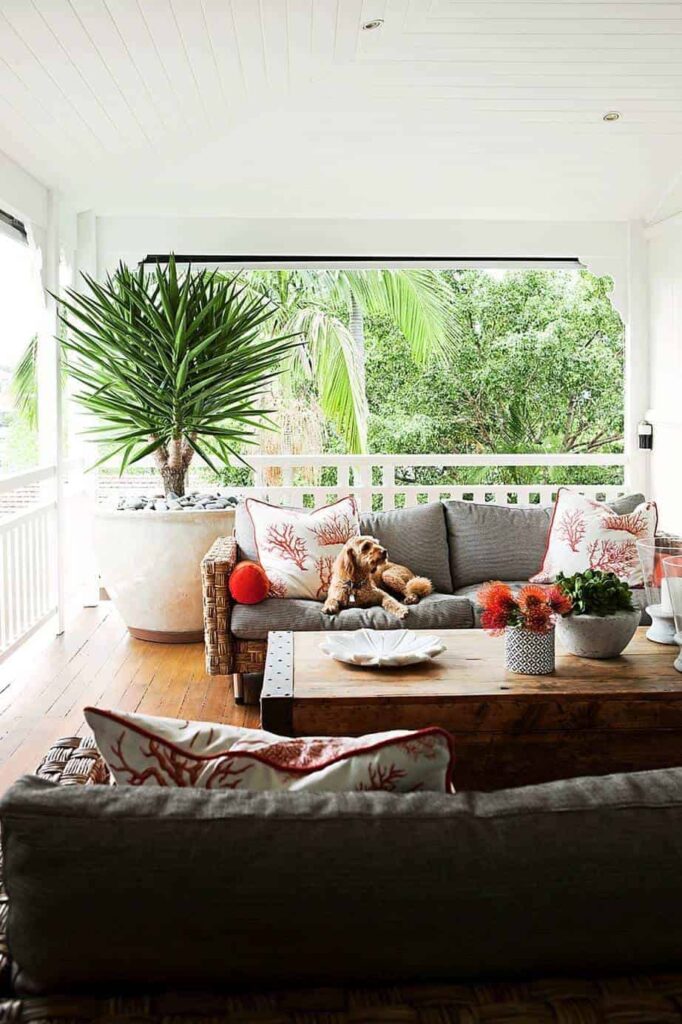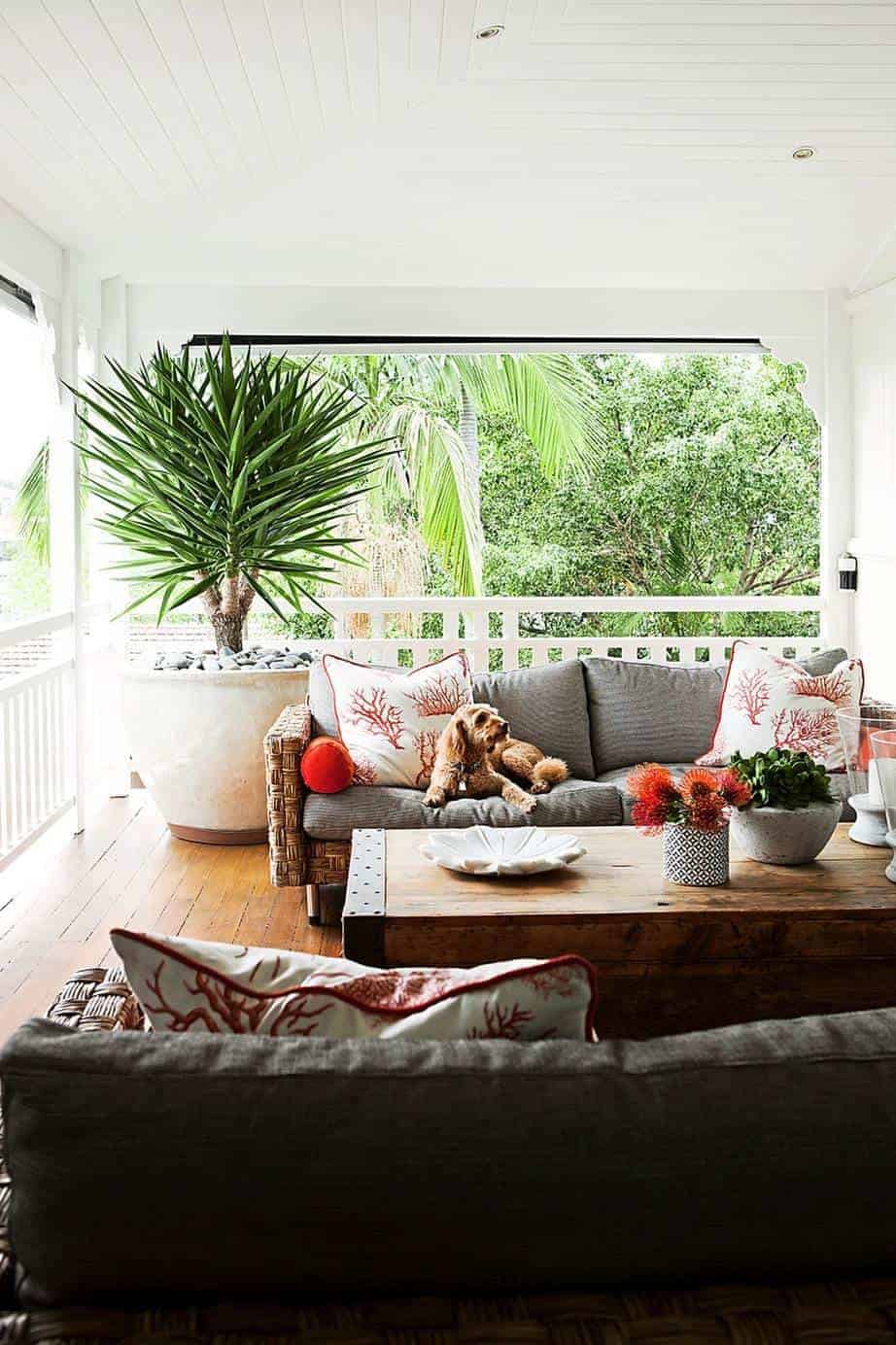 Image source: Homes to Love
As mentioned, 86% of homeowners in Australia often opt to upgrade or introduce structures like verandas during outdoor renovation projects. You can do the same with your veranda and turn it into a cosy outdoor sitting area.
The simplistic example above features only three pieces of furniture. Yet, the plants and custom fabrics make it look as expensive as any posh living room.
6. Garden courtyard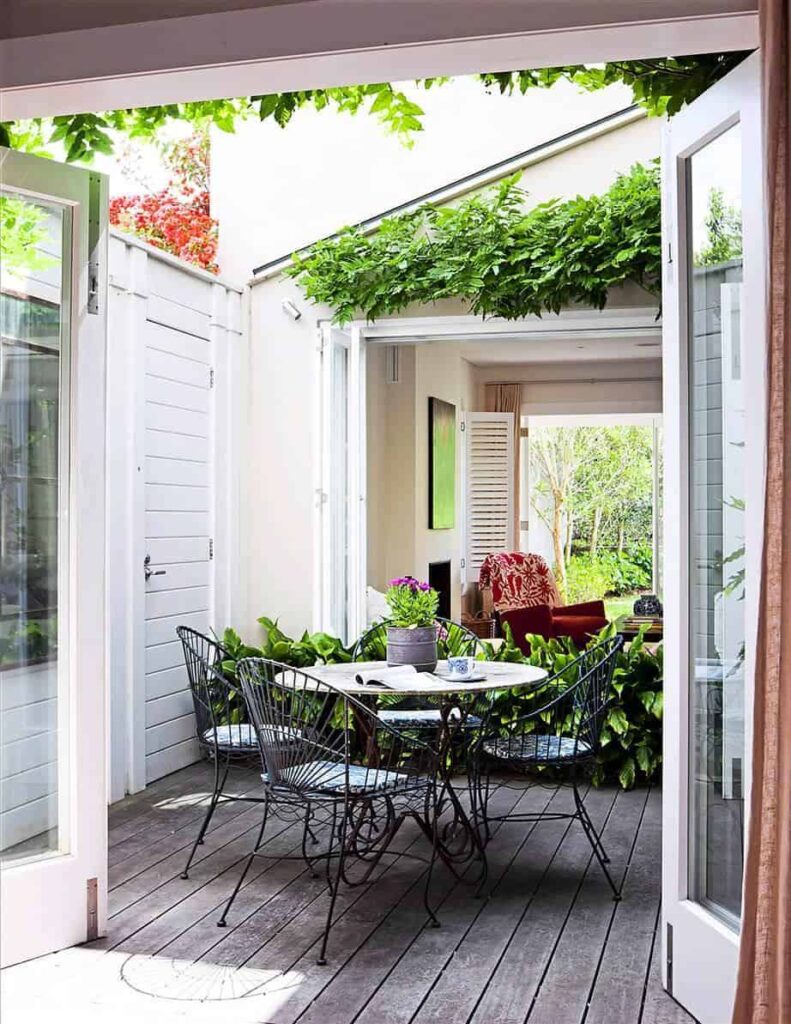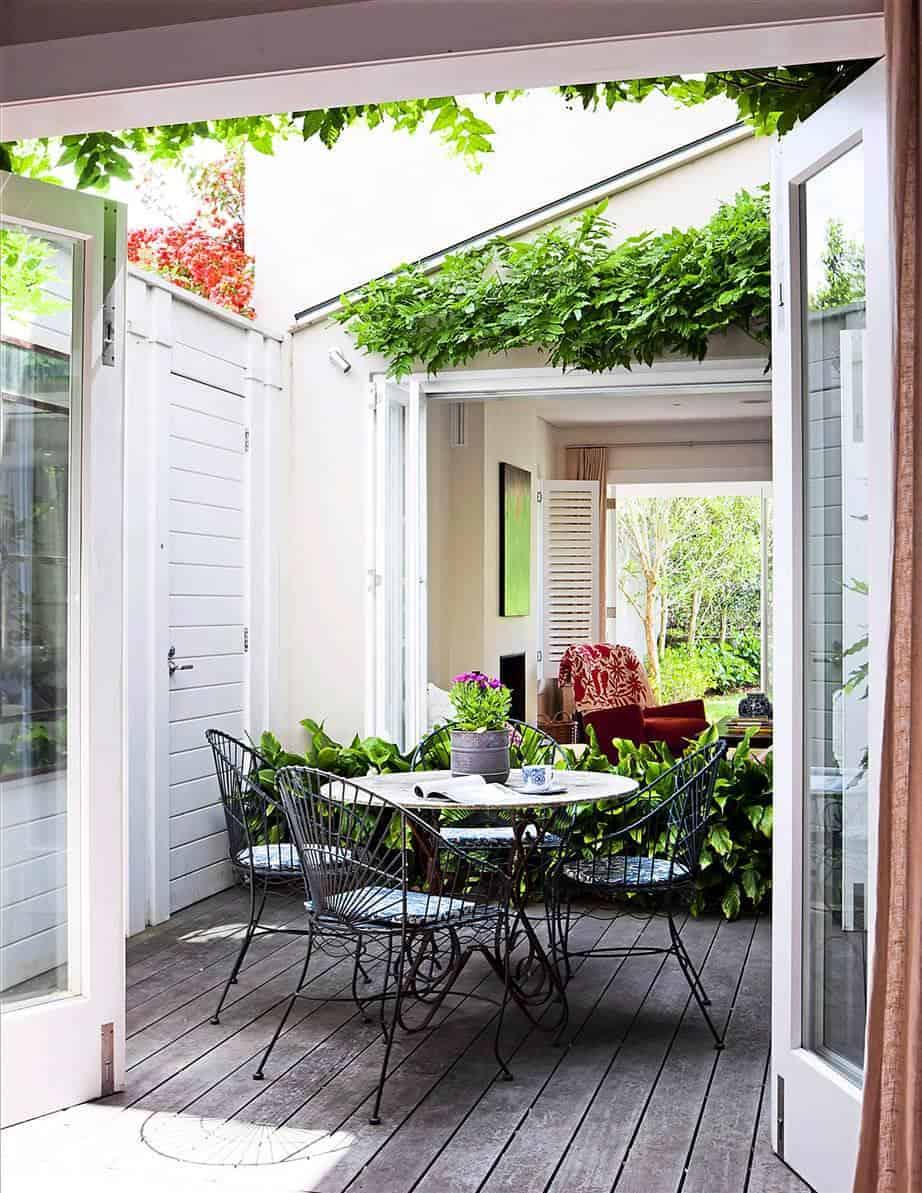 Image source: Homes to Love
Apart from structural upgrades like pergolas and decks, most Australian homeowners wish for garden beds and borders more than anything else. Planters and planter boxes are also up there on Aussie wish lists. That shouldn't come as a surprise seeing as we (Australians) love to incorporate nature in our dwellings.
And you can do exactly that with this central courtyard upgrade. Other than adding some greenery along the fascia and on the floor, this upgrade doesn't require much else. As such, it's perfect if you have a courtyard and are working with a tight budget.
7. Lit decking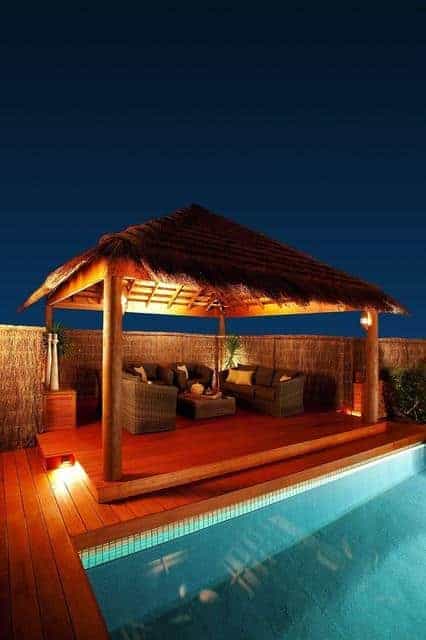 Image source: Houzz
The lighting in this example perfectly accentuates the thatched decking to bring out an authentic African style. That's what good lighting does – it highlights architectural features in living spaces.
Perhaps that's why more than 50% of homeowners update lighting in one way or another during an outdoor renovation project. One in ten homeowners who upgrade their lighting often switches to LED lights, which can be controlled remotely on mobile devices.
As far as design, this custom-built deck takes a larger footprint than most other outdoor projects. But it brings a lot more to the table. In addition to blending with existing landscaping, a well-executed decking offers generous sitting areas, romantic settings, a lit pool, and so much more.
8. Dining alfresco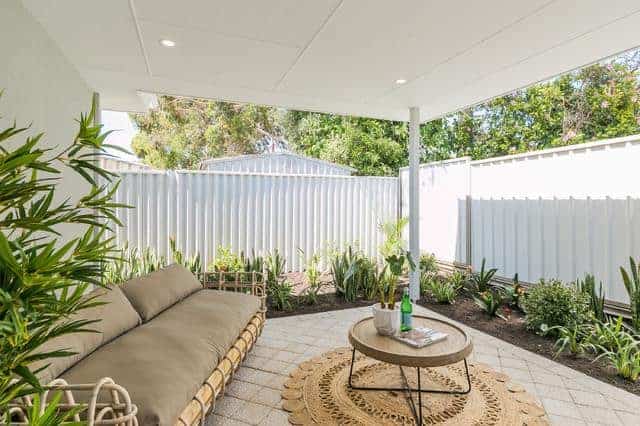 Image source: Houzz
It's not the biggest outdoor living space, but it doesn't have to be because plants take up some of the space. That's one direction that Australian homeowners prefer to take. Up to 75% of them usually update their plants while doing an outdoor renovation project.
Drought-tolerant flowering plants are the most liked, but those producing fruits and herbs are also in high demand. Whatever your preference, this small alfresco area delivers an intimate, sub-tropical feel.
9. Modern pool house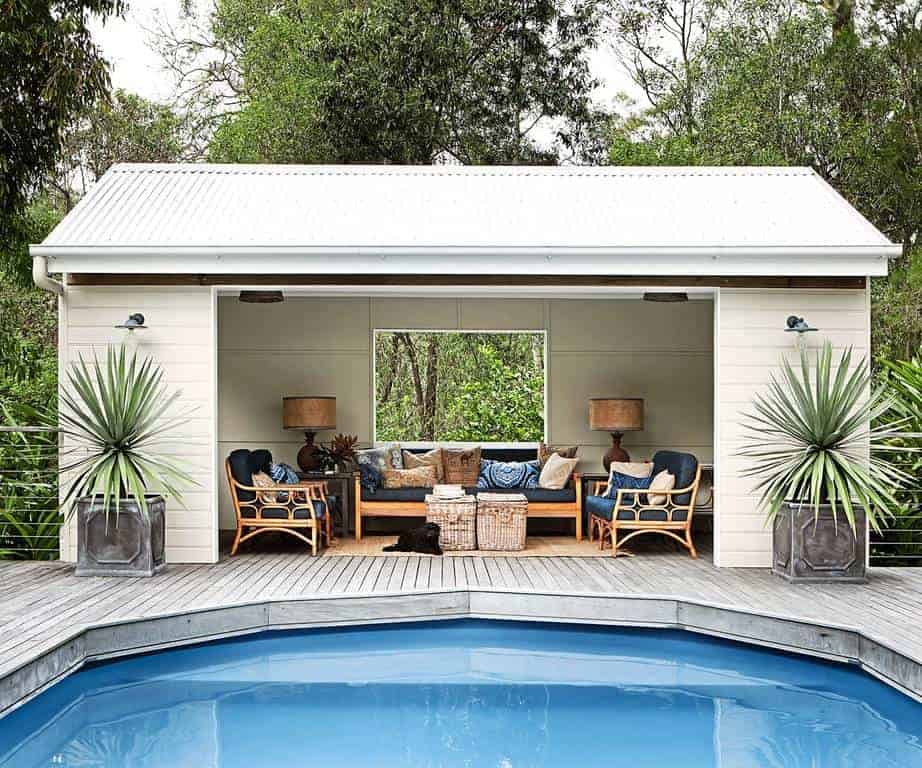 Image source: Homes to Love
Only 13% of home renovations include adding a swimming pool to the property. That's a shame because swimming pools have a way of making you feel relaxed, even when you're not in the water.
The image above, for example, features a pool whose pool house is decorated with stylish layers and textures of fabric. They don't just make the lounge chairs comfortable, but they appear to blend in with the bits of nature (potted plants).
10. Rustic fireplace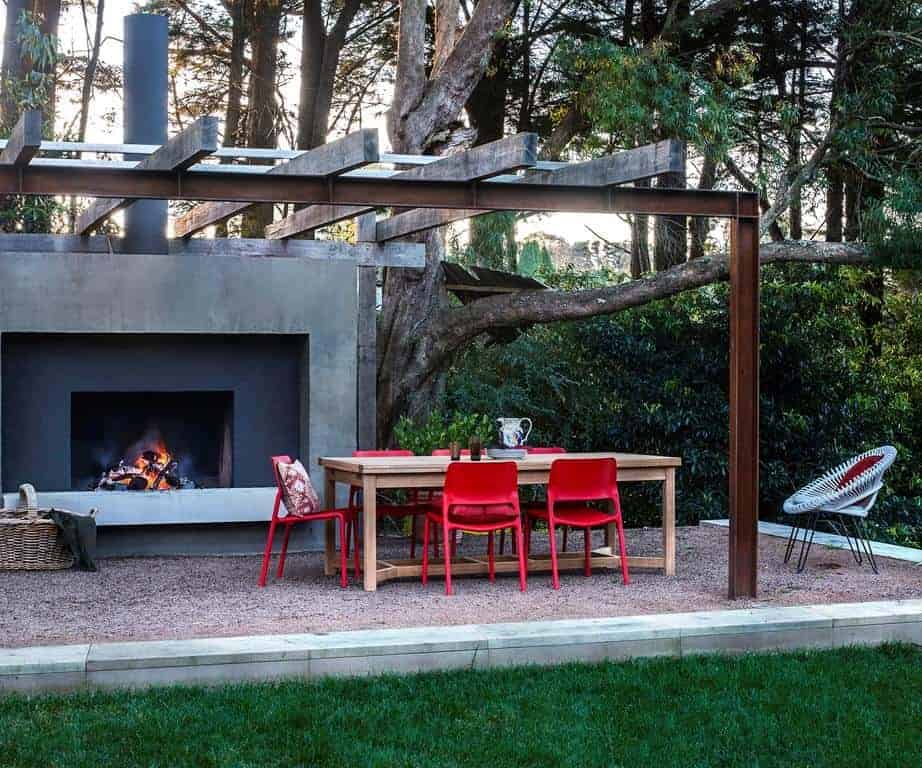 Image source: Homes to Love
Although lounge and alfresco furniture are the most common additions to outdoor living spaces, fire pits are also quite popular. Up to 40% of homeowners in Australia say that adding a composting station – more so a fireplace – is an essential part of an outdoor renovation project.
And what better way to add a fireplace on your property than building a rustic, all-season structure? You can take off the roof and enjoy the sunny summers or put it back on when the rainy season starts. Whatever the case, the set of furniture offers an excellent opportunity for dining alfresco beside a fireplace.
Love these examples? Get the best professional help for your outdoor living space project
Whether it's renovation or building from scratch, creating an excellent outdoor living space is not a DIY job. It involves laying stones, paving, decking, creating enclosures, landscaping and everything that only a trained constructor should do.
It's safe to say that most Australian homeowners understand this. As many as 70% of home renovators often hire a professional constructor to help with the task.
On average, an outdoor renovation project takes 6 months to plan and another 5 to implement. That's especially the case if it involves landscaping. And as it turns out, January is the best month to kick things off.
But if you're reading this past January, then you'll be glad to know that February and September are the other common months to break ground. The timing is mostly dependent on weather patterns. Therefore, if you're planning to undertake an outdoor improvement project, start by talking to your constructor to find out when they are most comfortable breaking ground.
Better yet, give us a call, and we will schedule your project on our calendar regardless of the date or month.
Who Are We?
We are CONVEYING & HOISTING SOLUTIONS™, and we hire out material handling equipment to the construction, mining, government, infrastructure, landscaping, remediation, home renovation and home repair companies. In other words, we support professional builders and constructors who can transform an outdoor area into a beautiful living and entertainment space.
Our vast experience of over 110 years speaks for us more than any words can. So far, we have supported over 6,200 projects in construction, mining, government, infrastructure, landscaping, remediation, home renovation and home repair landscaping and upgrading.
It's our firm belief that skilled constructors and builders should not be limited by budgets and lack of material handling equipment. You can, therefore, use our material handling equipment for the duration of your project. Give us a call or drop an email, and we will support your project.
If you're a homeowner, then you'll be glad to know that there isn't an outdoor project that we can't support. Here's a summary of the kind of projects that we back:
Extension: a well-designed and created indoor-outdoor extension that brings a seamless blend between your interior and exterior living areas.
Alfresco: include customised alfresco projects that meet your desires and blend with your existing property.
Sunroom: involves creating a living area where you can enjoy the sun when it's out and reserve space for the shade.
Pool: whether you want a swimming pool or a pool with a pool house, we've got you covered. From thatched African designs to contemporary Australian styles, we can support and deliver the project.
Landscaping: from building structures that match your terrain to the addition of plants and everything in-between, CONVEYING & HOISTING SOLUTIONS™ can support your project.
NEED QUALITY EQUIPMENT DELIVERED DIRECTLY TO WHERE IT'S NEEDED? CONTACT US TODAY!